In recent years, it's been a joy to see the fashion industry taking significant strides towards inclusivity and body positivity. In the past it was often difficult to find plus-size fashion, let alone in stylish options. The demand for well-fitting and fashionable options has grown and there are many emerging brands and stores that cater to the diverse needs of the plus-size community.
If you prefer to shop in a mall then you can find some plus-size classic stores like Addition Elle, Penningtons, and Laura Plus. However there are a number of other options that you may not be familiar with, and in this blog we'll explore some made in Canadian clothing brands that are celebrating body diversity and empowering women to express their style with confidence.
Five Made in Canada & Size Inclusive Fashion Brands
Free Label is dedicated to making great 'basics' but not the expense of the environment or human rights; this made in Canada clothing brand is not only sustainable and socially conscious, but also sell all their pieces is sizes ranging from XS to 5X. They use custom-milled organic fabrics like bamboo and linens which make their 'basics' pretty elevated! We also love how they often show the same pieces on both a smaller and a larger model so you can get a sense of what it will look like on all body types.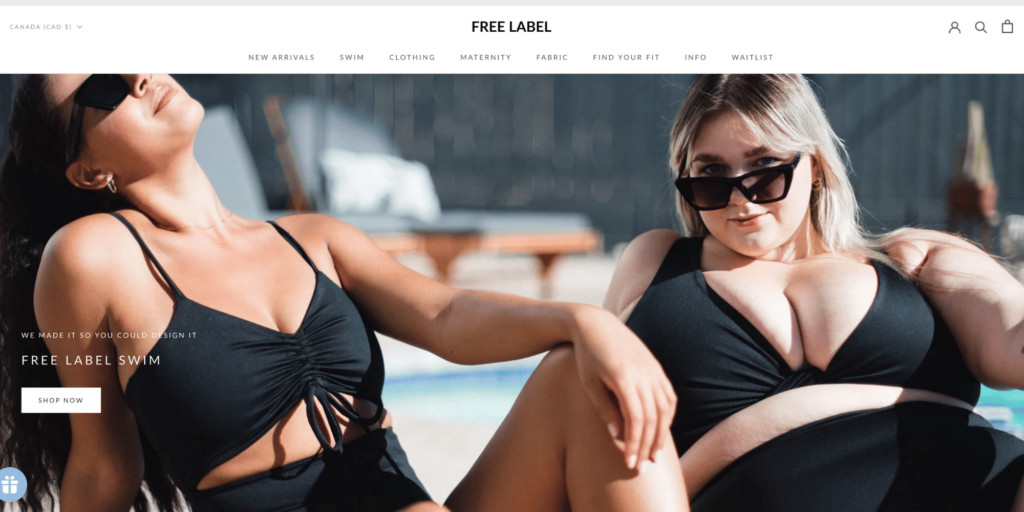 Part of their credo is to make garments that make women in any stage, shape, or age feel comfortable, confident, and stylish. Lost in Layers is also dedicated to environmentally-friendly fabrics and socially conscious directives. Made in Canada for plus-size and smaller options, Lost in Layers intentionally creates all their beautiful pieces for all bodies. We can't get enough of this positive messaging for inclusivity in the fashion industry. 💖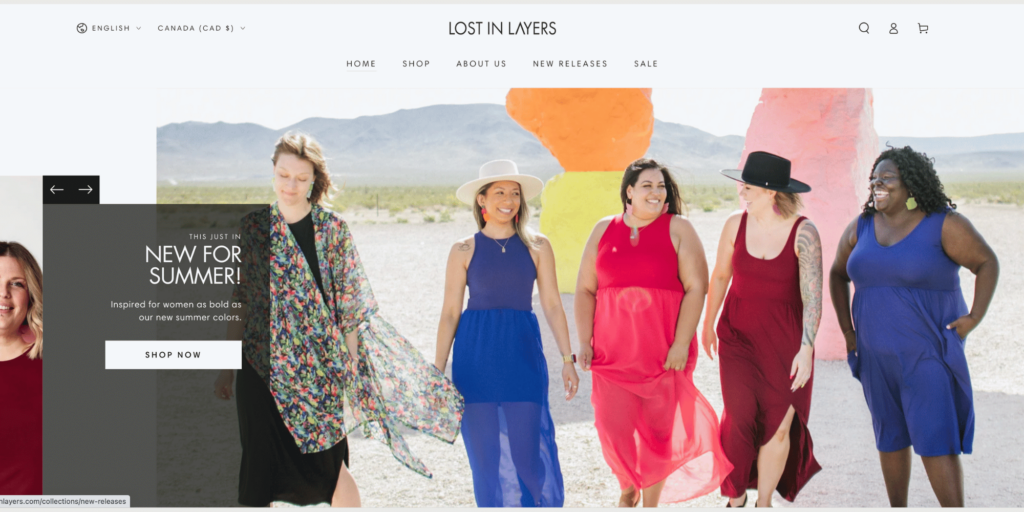 Yet another made in Canada plus-size brand that is sustainable and socially conscious – isn't it great to have so many of these?! 👏 Nettle's Tale ethically made pieces will feel like they're custom made. While initially a swimsuit brand (they still make them), they've expanded to apparel in sizes XS – 4X and opened a physical boutique as well in the trendy Gastown district of Vancouver.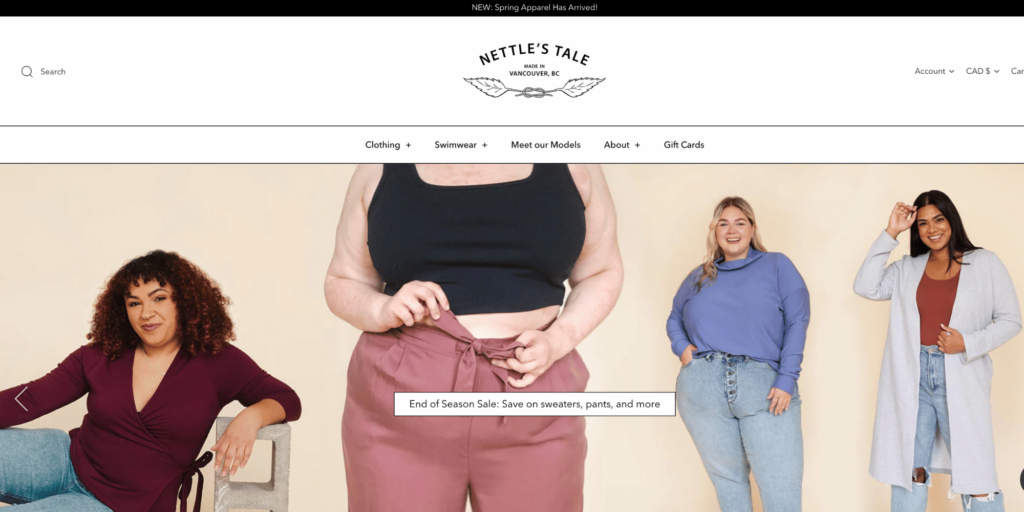 Unika was created in 2018 as a luxury swimwear brand for people of all sizes and shapes. Every swimsuit they make is sold in sizes XS to 4X and if you want something a bit more personal to your body, they also offer custom-made swimsuits. Made in Canada, Unika's styles range from minimal to fuller, and they are simple gorgeous. They also make swimsuits to accommodate those who have undergone mastectomies and lumpectomies. Finding a perfect fit and making the swimwear experience a positive one is of utmost importance to this Canadian swimwear brand (found online and locally in Toronto).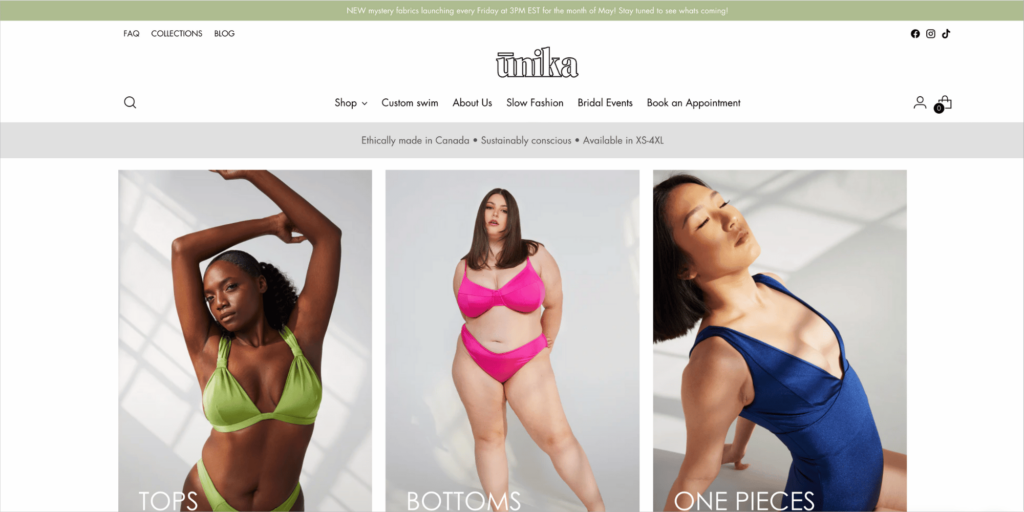 Diane Kennedy started her brand when she began her career in the fashion industry but found it hard to find clothes that fit her curves well and were made with beautiful and natural fabrics. Fast forward several decades later and the Diane Kennedy collections are made in Vancouver, Canada from local and sustainable fabrics. Diane designs clothing that she loves and feels great in, and knows that you will too.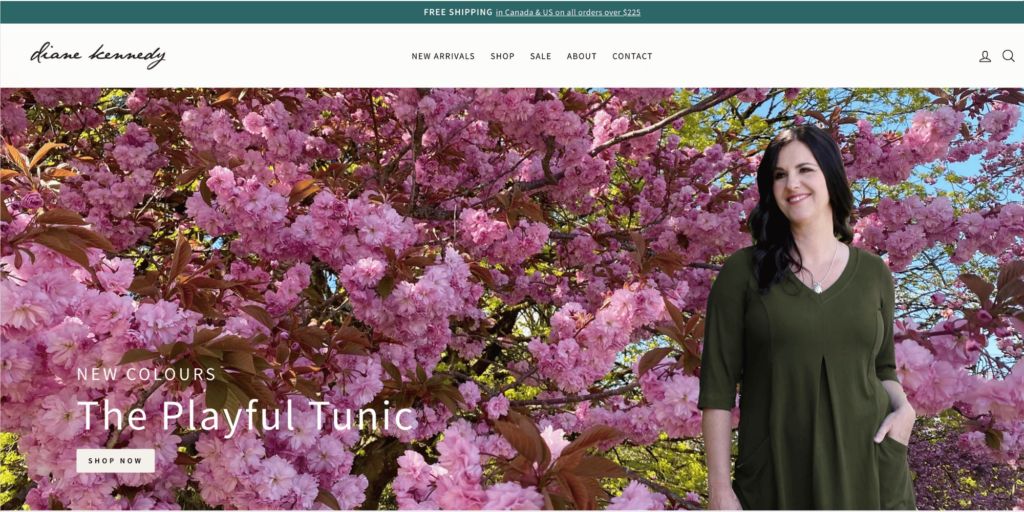 With their inclusive sizing, trendy designs, and committment to body positivity, these Canadian brands are at the forefront of the movement ensuring that everyone has an opportunity to express their style regardless of their size or shape.
These are just a few examples of made in Canada brands that cater to all sizes. The number of other brands and stores in Canada where you can now buy stylish plus-size clothing is a testament to the remarkable progress being made in the industry. Yay for inclusivity!!
---
We'd love to hear your thoughts! Please join the conversation below.